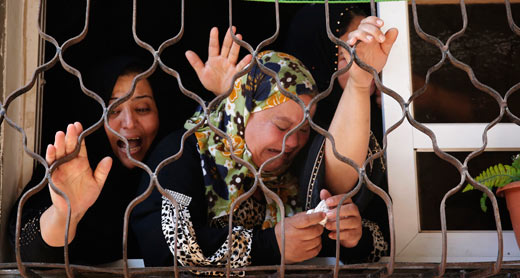 Women grieve in Khan Yunis. Photo: Finbarr O'Reilly 19 July, 2014
Mahmoud al-Astal and his wife live with their eight children in the al-Mawasi area, near the shore in the southern Gaza Strip. On 19 July 2014, Mahmoud al-Astal gave testimony by phone to B'Tselem field researcher Iyad Hadad. He related how, soon after Israel launched Operation Protective Edge in Gaza, he and his wife had sent their two youngest children to his sister's home in the al-Katiba area in Khan Yunis, several kilometers away from their home. Al-Astal said that the Israeli navy had been massively firing at the shoreline and their area was extremely dangerous. He continued:
"My wife and I were afraid something bad would happen to Yasmin (5) and Usamah (8). We're adults, we can run and we know what to do, but it's harder for the little ones. They don't understand what's going on and don't know what to do. We thought my sister Kawthar's home would be safer. It's a crowded residential area. It's usually quiet there, and the bombings haven't reached them. After we sent the kids there, we spoke called my sisters a few times and they said Yasmin and Usamah were having fun there. I asked them to take care of the kids until things calmed down and they could come home. My wife and I and our six older children stayed at home".
Maryam al-Astal, 19, a school teacher, is another of Mahmoud's sisters. She lives with their sister Kawthar in Khan Yunis . On 19 July 2014, she told B'Tselem's field researcher over the phone what happened three days earlier, on 16 July:
"At about 7:00 PM, a bit before the evening Ramadan meal, we were sitting around the table, talking and reading Koran verses. Four of our nephews and nieces were there with me and Kawthar: Hussein, 23, his brother 'Udai, 19, and Yasim and Usamah, their cousins. Yasmin was sitting in my lap and Usamah was next to us, watering the plants. I remember my sister Kawthar saying: "Enough talking. Let's get dinner ready. It's almost time."

Suddenly there was a huge blast. I remember seeing a bright flash of light. I was blown away and crashed on the floor. Everything filled with smoke. I realized a missile had landed inside the house, right where we were.

I saw the others lying on the floor. At first, I thought I was the only one left alive. Little Yasmin was lying beside me, dead, in a pool of blood. I realized I wasn't badly hurt, but I couldn't feel my legs. I couldn't stand up.

The missile blew up a water tank in the house and the floor was flooded. At first I thought the water was a pool of blood. I felt like I was swimming in blood. I started screaming for help.

Neighbors and ambulance crews got there within a few minutes. They treated us and took us to the hospital in Khan Yunis.

At the hospital they told me that my sister Kawthar and my nephews and niece, Yasmin, Usamah and Hussein, had been killed. Out of everyone who was in the house only my nephew 'Udai and I survived. 'Udai is seriously hurt. He's still in the ICU. He was injured in the head and stomach.

I had surgery at the hospital. The doctors put platinum in my left leg to set the broken bone. I'm still in hospital, but the doctors say I'll be discharged soon."
Mahmoud al-Astal, Usamah's and Yasmin's father, related how that day, shortly after 7:00 PM, he received a phone call from his cousin in Khan Yunis – a call that changed his life:
"I was home with my family. We were waiting to start the Ramadan evening meal when my cousin called me from Khan Yunis. He said a missile had been fired at my sisters' house and asked me to come quickly because my kids had been hurt. I was very upset. I asked him how they were and he said their injuries weren't serious. He didn't want to tell me the truth. I hung up and ran out of the house. I ran like a maniac to Kawthar's house. I got there in less than twenty minutes. When I got to the front door, I realized something terrible had happened.

People inside the house came up to me. They told me that my two children had been killed. They also told me that my older sister Kawthar, 57, and my nephew, Hussein, 23, had been killed too. I can't describe the tragedy that has happened to us. I yelled and cried hysterically. The people there tried to calm me down. I preferred not to see my children and my sister and nephew, who had been killed. I was afraid to see them like that.

The picture that stuck in my head from was the red floor in the house. The water tank had exploded and the house was flooded with water, red water, dyed with the blood of my family members who were killed.
The names of those killed in the incident:
Kawthar Hussein Mahmoud al-Astal, 57
Hussein 'Abd a-Nasser Hussein al-Astal, 23
Usamah Mahmoud Hussein al-Astal, 8
Yasmin Mahmoud Hussein al-Astal, 5
* * *
Concerning testimonies about the "Protective Edge" campaign:
The information in this post is based on testimonies taken by phone. With the current military campaign ongoing, B'Tselem is taking testimony from Gaza residents, mainly by telephone. B'Tselem verifies, to the best of its ability, the reliability and precision of the information reported; nevertheless, in these circumstances, reports may be incomplete or contain errors. Given the urgency of informing the public about events in Gaza, B'Tselem has decided to publish the information now available. When the military campaign ends, B'Tselem will supplement these reports as needed.