On 9 August 2017, between 3:00 AM and 4:00 AM, soldiers entered a-Duheisheh Refugee Camp with the goal of arresting two residents: Raed Salhi, 21, and 'Aziz 'Arafah, 24, who were both in their homes. During the operation, the soldiers shot both the men as they attempted to escape. Salhi died of his injuries on 3 September 2017, while 'Arafah is still hospitalized and detained in Israel.
On the night in question, Raed's brother Muhammad Salhi saw a Facebook post reporting that the military was raiding the camp. He quickly woke up Raed, who was sleeping in the yard on the western side of the house, since the security forces had already come in the past to arrest him. Raed Salhi, who was not armed, woke up and immediately attempted to escape by climbing a concrete wall some 2 – 2.5 meters high surrounding the yard.
In testimony taken on 13 August 2017 by B'Tselem field researcher Musa Abu Hashhash, Raed's brother Muhammad, 24, stated:
I shouted at Raed to wake up. He woke up immediately and climbed the yard wall to jump to the other side. At the same moment I heard quick gunfire. Raed fell to the other side of the wall. I thought he'd managed to escape. My mother started screaming and I tried to calm her down and tell her that Raed had managed to escape, but she didn't believe me and kept on screaming and crying.

I walked toward the wall and heard my brother Raed say "I have become a martyr." He repeated it. I saw a soldier standing on the wall in the corner. My mother and I began to throw plates and glasses behind the wall to drive the military away, but the soldiers shot at the wall.
In testimony taken on 13 August 2017 by B'Tselem field researcher Musa Abu Hashhash, Raed's mother, Zeinab a-Maharmeh (Salhi), 52, described what happened:
I heard Muhammad shouting at Raed and telling him that the military was in the camp. I knew that Raed would try to escape before they reached our house. While I was standing behind the door watching the road, to make sure the military hadn't gotten to our house yet, I heard my sons Muhammad and Bassam say that the military had fired shots and soldiers were standing on the wall around the yard where Raed had been sleeping. I thought Raed had managed to escape before the military arrived. I heard someone behind the wall say a few times "I have become a martyr," but his voice was weak and then he fell silent. I asked Muhammad if it was Raed's voice. Muhammad tried to deny it, but I didn't believe him and I started to shout and cry. I didn't know what was going on around me. I saw Muhammad throwing plates and glasses behind the wall and I started to throw them too. I cried and screamed until I almost passed out.
The family called for an ambulance. Bassam Salhi, 27, the brother of Raed and Muhammad, who was in the house at the time, tried to climb onto the wall to see what had happened to his brother. He managed to see that he was still moving, but the soldiers standing around the house shot toward him and he slipped and fell back down. After a few more attempts, when the soldiers kept shooting at the wall around the Salhi family home and the wall of the neighboring house, Bassam managed to climb onto the wall and get onto the roof of an adjacent home. He waited for the soldiers to move away and then went down to his brother, who was lying injured in the alley and was fully conscious. Bassam Salhi began to evacuate his brother from the scene, but after progressing about 100 meters some of the soldiers returned and forced him to leave his brother. He climbed onto an adjacent roof and saw the soldiers evacuating Raed, who was not moving any more, to a nearby mosque. A few minutes later, the soldiers began to fire at Bassam, who went back into the family home. Other residents stated that the soldiers only evacuated Raed in an ambulance after about 40 minutes.
The military did not update the family on Raed's whereabouts, and it was the next day before they learned from the Palestinian Prisoner's Club that he was hospitalized at Hadassah Ein Kerem in Jerusalem.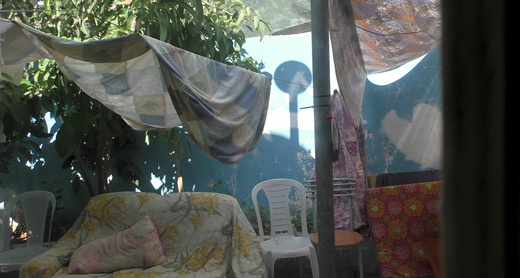 The yard where Raed Salhi slept and the fence on which he climbed. Photo: Musa Abu Hashhash, B'Tselem, 13 August 2017
His mother, who visited him in hospital on 13 August 2017, stated in testimony taken on 28 September 2017 by B'Tselem field researcher Musa Abu Hashhash:
When we got to Raed's room there were two soldiers inside. The nurse saw us standing at the entrance and immediately closed the curtain so that I couldn't see my son. I heard her speaking on the telephone and I got nervous. I was afraid and left the hospital immediately. I cried a lot and began to shake. I went home without seeing my son and I only got more and more anxious.

On Wednesday I decided to try again. My husband and I crossed Checkpoint 300 and got to the hospital. The door to Raed's room was open and I went in. Two soldiers who were guarding him did not stop us going in. I was shocked when I saw Raed. He was unconscious and connected to a ventilation machine. At first I thought he was dead, but then I noticed that his chest was moving. There was a tube in his neck and another one in his stomach.

After a few minutes, a doctor came along and was angry that we were there. He called security. I ran off with my husband and we went home. I got home even more worried, because I realized that Raed was in a really bad condition.

About a week later I tried to visit Raed again, but at Checkpoint 300 they told me that I was denied entry and they ordered me to go home. I was surprised when the soldiers told me that I was denied entry. I cried and tried to convince the soldier that I wanted to visit my son in hospital, but he didn't listen and told me to go home. I waited there for more than two hours until I gave up hope. I left the checkpoint and went home.
In a later conversation with B'Tselem field researcher Musa Abu Hashhash, Raed's mother explained that she was afraid to confront the medical personnel at the hospital in case this made problems for her husband, who has cancer and is also being treated at Hadassah Ein Kerem. On 3 September 2017, the family received a phone call from the hospital and was informed that Raed had passed away. About a week after Raed was shot, on 16 August 2017, the security forces arrested Raed's brother Muhammad at home. He was given an administrative detention order for four months.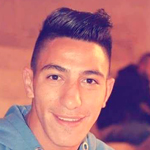 B'Tselem's investigation shows that the soldiers who came to arrest Raed Salhi shot him without any justification while he was escaping from them and they were not in any danger. Moreover, some of the shots were directed at his upper body, in complete contravention of the orders. The soldiers also shot at his brother in order to prevent him from providing first aid. The military hospitalized Salhi at an Israeli hospital without updating the family, and stationed guards despite the fact that he was unconscious. When his parents attempted to visit him, the medical team prevented this and did not make any effort to inform them of his medical condition and treatment. As in many cases when it kills or injures Palestinians, the security establishment was quick to take actions against the family of the injured Salhi, in this instance denying his mother the possibility to enter Israel in order to visit her son and detaining his brother without trial.
For an entire generation, repeated letters from B'Tselem to the military law enforcement system failed to lead to any meaningful accountability in incidents involving the killing of Palestinians. In many cases no investigation was opened, and in any case such investigations almost always proved to be a whitewash. Accordingly, B'Tselem has decided to stop writing to the MAG Corps to demand investigation. At the same time, B'Tselem continues to act to encourage accountability by investigating incidents such as this in which lethal force is used against Palestinians in circumstances when there was clearly no acceptable justification for this. B'Tselem also details such incidents in public reports. Naturally, the legal system continues to be responsible for investigating such cases and prosecuting all those involved. However, as long as the MAG Corps maintains its policy of systematically whitewashing the killing and injuring of Palestinians by the security forces, there is no deterrence that might eventually put a stop to such lethal shootings of Palestinians.