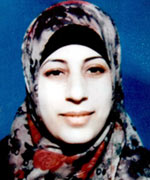 Physicians for Human Rights-Israel reported that administrative detainee Hanaa Shalabi, 30, declared a hunger strike when arrested on 16 February 2012 "in protest of her violent detention, the humiliating and hurtful search that was conducted on her upon her detention, and also in protest of being held in administrative detention." Shalabi was hospitalized on 21 March 2012 at Meir Hospital in Israel and the PHR doctor who recently examined her has reported that her life is in danger. Palestinian organizations and the press reported that Shalabi was released last year, after twenty-five months in administrative detention, as part of the Shalit prisoner exchange deal.
The steady increase in the number of administrative detainees held by Israel continues: Data obtained by B'Tselem from the Israel Prison Service shows that in January 2011, 219 Palestinians were in administrative detention; by December 2011, the number was 307; and by the end of February 2012, there were 320 administrative detainees. The data show that, at the end of December 2011, some 29 percent of administrative detainees had been held for six months to one year and another 24 percent for one to two years. Seventeen Palestinians had been in administrative detention continuously for two to four and a half years, and one man has been held for over five years. 2011 was the first year since 2008 that there was an increase in the number of administrative detainees, after the number had fallen from 813, in January 2008, to 204 in December 2010.
Administrative detention is detention without trial, intended to prevent a person from committing an act that is liable to endanger public safety. Such a detention is inherently problematic since, unlike a criminal proceeding, administrative detention is not intended to punish a person for an offense already committed, but to prevent a future danger. The manner in which Israel uses administrative detention is patently illegal. Administrative detainees are not told the reason for their detention or the specific allegations against them. Although detainees are brought before a judge to approve the detention order, most of the material submitted by the prosecution is classified and not shown to the detainee or his or her attorney. Since the detainees do not know the evidence against them, they are unable to refute it.
The detainees also do not know when they will be released: although the maximum period of administrative detention is six months, it can be renewed indefinitely. In fact, of the administrative detainees held in December, over 60% had their detention extended at least once beyond the first detention order. Over the years, Israel has held thousands of Palestinians in administrative detention for periods ranging from a few months to several years. The state has also administratively detained a number of Israelis, including settlers, for periods of a few months. There were times during the second intifada that Israel held over a thousand Palestinians held in administrative detention. Under international law, it is permissible to administratively detain a person only in exceptional cases, to prevent a grave danger that cannot be prevented through less harmful means. Israel's use of administrative detention blatantly breaches these rules. The military must release all the administrative detainees or prosecute them, in accordance with due process.