Israel is currently holding 308 Palestinians in administrative detention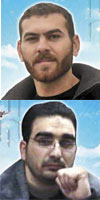 Today(7 May, 2012) Israel's High Court of Justice rejected appeals by Bilal Diab and Thaer Halahlah against their continued administrative detention, and ruled that a hunger strike cannot determine the duration of administrative detention. The ruling followed a report by Physicians for Human Rights-Israel that both prisoners are near death. Diab, age 27, who is from Kafr Ra'i near Jenin, has been in administrative detention for 8 months on the basis of his alleged membership in the Islamic Jihad. Halahlah, age 34, who is from Khirsan near Hebron, has been in administrative detention since June 2010 for his alleged activism in Islamic Jihad. Halahlah's only daughter who is now 20 months old, was born after his arrest and he has not been permitted to see her. Diab and Halahlah began a hunger strike on 1 March 2012 in protest of the renewal of their administrative detention. They are now hospitalized at Assaf Harofeh Hospital in Rishon Lezion. PHR-Israel has requested that their independent physicians be permitted regular visits to the strikers, since examination by an independent physician promotes the trust required in a relationship between a doctor and a hunger striker.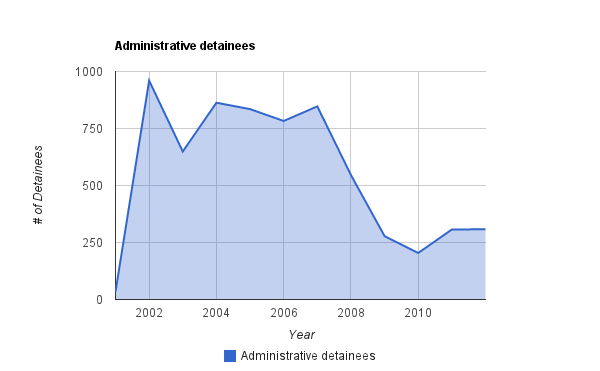 The most current data received by B'Tselem from the Israel Prisons Services (IPS) shows that as of the end of April 2012, there were 308 Palestinians in administrative detention. Since December 2010, the number has risen from approximately 204 to more than 320. IPS data also indicate that as of the end of April 2012, some 31 percent of administrative detainees have been held for six months to one year, and another 34 percent for one to two years. Thirteen prisoners have been detained continuously for two to four and a half years, and two prisoners had been held continuously for over four and a half years.
Administrative detention is detention without trial, intended to prevent a person from committing an act that could endanger public safety. Such a detention is inherently problematic since, unlike a criminal proceeding, administrative detention is not intended to punish someone for an offense already committed, but to prevent future danger. The manner in which Israel uses administrative detention is patently illegal. Administrative detainees are not told the reason for their detention or the specific allegations against them. Although detainees are brought before a judge to authorize the detention order, most of the material submitted by the prosecution is classified and not shown to the detainee or his attorney. Since the detainees do not know the evidence against them, they are unable to refute it.
The detainees also do not know when they will be released. Although the maximum period of administrative detention is six months, it can be renewed indefinitely. In fact, of the administrative detainees held in December, over 60 percent had their detention extended at least once beyond the first detention order.
Over the years, Israel has held thousands of Palestinians in administrative detention for periods ranging from a few months to several years. The state has also administratively detained a number of Israelis, including settlers, for periods of a few months. There were times during the second intifada that Israel held over a thousand Palestinians held in administrative detention.
Under international law, it is permissible to administratively detain a person only in exceptional cases, as a last resort in order to prevent a grave danger that cannot be prevented through less harmful means. Israel's use of administrative detention blatantly breaches these rules. The military must release all the administrative detainees or prosecute them, in accordance with due process.
Moreover, nearly all the detention facilities where Palestinians are held are located inside Israel, a violation of international law. Some of these prisoners are also denied visits from family members, as Israel denies them entry permits into Israel.