Israel uses two kinds of procedures to imprison Palestinian residents of the West Bank: criminal and administrative. In some cases, a person is arrested for interrogation, and only after it is completed does the state decide which of the tracks (if any) it will choose to promote their imprisonment.
The procedures are not as different as they appear. In the criminal track, the state indicts the accused individual in a military court, but the evidence in these cases – questionable as it may be – is usually scant, limited to a confession extracted from the defendant or their incrimination by another person. At any rate, evidence barely factors in the procedure as it is rarely heard. Most commonly, the case is closed by the defense and the prosecution reaching a plea deal in which the defendant pleads guilty – usually in exchange for some of the charges being dropped – and the parties agree on the sentence. The judges merely approve the plea deal, which was not reached through judicial procedure. At the end of August 2019, 2,851 Palestinian residents of the West Bank were serving sentences in Israeli prisons.
In the administrative track, the OC Central Command signs an arrest order based on evidence that is kept from the detainee, as are the grounds for the arrest. As the evidence is not revealed even when the warrant is appealed, the detainees and their counsel have no chance to refute it. At the end of August 2019, Israel was holding 413 Palestinian residents of the West Bank in administrative detention.
The major difference is the date of release. In the criminal track, defendants are given a finite sentence to serve, after which they can expect to leave. Yet an administrative detention order can be extended indefinitely – even on the very day of the scheduled release – leaving detainees in a state of uncertainty, in which they only know how long the current extension will last.
In five cases researched by B'Tselem (four of which are detailed below), the military erased this one difference by imposing administrative detention on prisoners who had just finished serving the sentences imposed on them by the military court. The prisoners were notified of their transfer to administrative detention just prior to their release, when they were already preparing to reunite with their families. The result is unbearable uncertainty and stress for the prisoners and their families, which projects on other prisoners who also fear they will not be released when they finish serving their terms.
The military courts cooperate with this conduct; in all of the following cases, they approved the transfer of prisoners to administrative detention instead of releasing them. This confirms the role of the military courts as one of the occupation's most destructive mechanisms, which is yet another long arm of Israel's control over the Palestinians.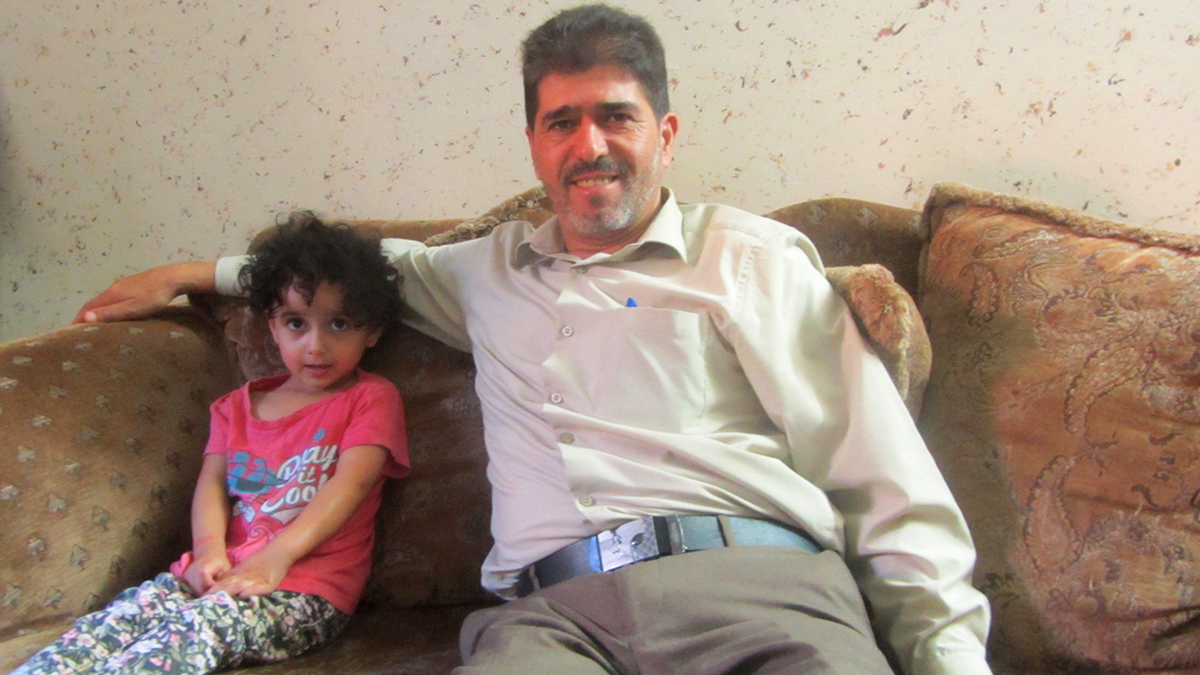 Ja'far 'Iz a-Din, 48, from 'Araba in the Jenin District:
At around 3:00 A.M. on Wednesday, 30 January 2019, soldiers entered the home of the 'Iz a-Din family in the town of 'Araba, which lies southwest of Jenin. The soldiers searched the house and arrested the father of the family, Ja'far Iz a-Din, 48, a construction worker and former prisoner freed in the Shalit deal.
The military prosecution indicted 'Iz a-Din and on 27 May 2019, the deputy president of the Salem military court, Lieut.-Col. Avishag Agami-Mordechai, approved the plea deal he signed. In it, he was convicted of performing services for an unlawful association and sentenced to five months in prison, one year's suspended sentence and a fine of NIS 5,000 (approx. USD 1,430). 'Iz a-Din was supposed to be released once he finished serving his sentence, on 16 June 2019. Yet when the day arrived, he was informed that five days earlier, 11 June, an administrative detention order had been issued against him for a period of three months.
The same day, 16 June, 'Iz a-Din went on hunger strike and was transferred to the solitary confinement wing. A month later, on 27 July, a hearing was held in his case the Ofer military court. As with every administrative detention, the prosecution refused to reveal the grounds for the detention to him or to his lawyer, and the judge, Lieut.-Col. Yehiel Katz, approved the order based on classified material. However, the judge did shorten the detention by a month and set the release date for 14 August. 'Iz a-Din was finally granted administrative release on 8 August 2019.
His wife, Asmaa 'Iz a-Din, 38, a mother of five, said in a testimony she gave B'Tselem field researcher Abdulkarim Sadi on 19 June 2019, several days after her husband was transferred to administrative detention:
On the very day my husband was supposed to be released from Megiddo Prison, his lawyer informed me, my sons and daughters, and his second wife Nadiah, 43, who has three adult children, that an administrative detention order had been issued against him for three months.

It was a sad day for us all. The kids were in shock. They were so sad when they heard about their father's administrative detention. They'd been waiting for him for five months and were so excited he was about to be released, they'd prepared surprises for him. Yusef, 8, drew him a picture that he was planning to wave when we welcomed him at Jalameh Checkpoint and shout, "My father is free!". Nasser, 7, was getting ready for the welcome party we were planning to celebrate his father getting out of jail. He kept saying, "When Dad gets out of jail I want to hug him really tight, because I missed him so much."

The decision to put Ja'far in administrative detention hit Nadiah and me like a bolt of lightning. The news came while we were preparing food and sweets for him and waiting impatiently for him to get out of prison, so we could get back to normal.

My children haven't seen their father since he was locked up. I've only seen him at court hearings, in which they didn't let me talk to him. I only looked at him. Nadiah and I got a permit to visit him in prison but we couldn't use it – once because he was taken to the Ramle Prison infirmary to treat his diabetes and hypertension, as well as his lack of vitamins due to previous hunger strikes, and once because the Red Cross told us there were too many visitors.

His lawyer and other detainees told me that my husband declared a hunger strike when he learned of the administrative detention order. We're all worried about his health. Nadiah's children and his brothers are helping us financially.
In a testimony he gave B'Tselem field researcher Abdulkarim Sadi on 20 August 2019, after he was released from prison, 'Iz a-Din said:
I couldn't wait to be released. My family – my wives and children and my mother, who is 85 and unwell – were all looking forward to that day, too. I didn't know the ISA people had ordered my transfer from regular detention to administrative detention. The day I was supposed to go home, at 5:00 P.M, the ISA officer at Megiddo Prison told me they were moving me to administrative detention. At that moment I declared a hunger strike.

The next day they moved me to solitary confinement in a narrow cell, 2 x 2.5 meters big, with a toilet and a rubber mattress. It was very hot and humid there, with a bad smell. I was held in that cell for 22 days, during which they tried to pressure me and provoke me – with nude body-searches, frequent and humiliating searches of the cell, and cursing me with humiliating obscenities. The jailers would shout to prevent me from sleeping, and ate and drank near me to break my hunger strike. Most of the time I drank water, but twice during the hunger strike, on the third day and the 17th day, I also stopped drinking, each time for three days. On 9 July 2019 they transferred me to the infirmary at Ramle Prison because my health was deteriorating. I stayed there until I stopped my hunger strike on 25 July, after 39 days in total. That was after my lawyer managed to reduce my detention to two months. They moved me to Ofer Prison and about 10 days later I was released, a week before the end of the detention order.

During my hunger strike I suffered severe pain, fainted, vomited and couldn't stand or walk. I was laying down the whole time. My family was never allowed to visit me. This was my sixth administrative detention since 2002. Every time I was detained for a few months, and sometimes the detention was extended. I've been held in administrative detention for a total of 47 months.

A day after I ended my hunger strike, Muamen, my son by my wife Nadiah, visited me at the infirmary at Ramle Prison. It was my first visit from a relative since I was imprisoned. I was weak and sat in a wheelchair. I was very worried about my wives and children. Muamen reassured me they were all okay.
Malek Abu 'Eishah, 34, a married father of three from Hebron:
On 31 May 2018, around 1:00 A.M., soldiers entered the Abu 'Eishah home in Hebron in search of Malek Abu 'Eishah. They did not find him and went next door to the home of his father, Muhammad Abu 'Eishah, 60. The soldiers searched the house and turned its contents inside out. They then ordered the father to call his sons and summon them there. Two of the sons, Malek and his brother 'Abd al-Hadi, 27, arrived. The soldiers arrested Malek and took him away. The military prosecution then filed an indictment against Malek Abu 'Eishah for incitement. As part of a plea deal, he was sentenced to one year in prison. His release was set for 3 May 2019, but on that day Abu 'Eishah informed his family he had been transferred to administrative detention.
Abu 'Eishah's appeal against the administrative detention was rejected. He petitioned the High Court of Justice and the State undertook to extend his administrative detention only once. On 2 September 2019, Abu 'Eishah's his detention was extended for another four months. He is scheduled to be released on 1 January 2020.
In a testimony she gave B'Tselem field researcher Manal al-Ja'bri on 18 June 2019, Malek's wife, Ghadir Abu 'Eishah, 25, a mother of three, said:
When my husband was tried at Ofer I was six months pregnant with my son Mu'tasem and couldn't attend the court hearings. I bear the suffering of the trip to the court, the long wait, and the security procedures we undergo there. My husband's father and his mother 'Itaf, 55, are unwell, so they couldn't go to court either. After I gave birth, I found out I was denied entry to Israel on security grounds and wasn't allowed to visit Malek. His mother visited him four times, and in June his father visited him with my two elder children, who are seven and four. They keep asking about their father and when he'll be home.

Malek was supposed to get out of Ketziot Prison on Friday, 3 May 2019. We were all waiting impatiently to finally see him. His parents bought sweets for him and for everyone who was going to come and congratulate him, and the children wore new clothes and waited for him so badly. We were in shock when around 3:00 P.M., Malek called and told me he was now in administrative detention for four months. I was shocked and collapsed. The children and I started crying.

It's very hard, having three children at home without their father. My father-in-law takes care of our needs, food, clothes and household things, but when I need something personal or the children want something, I'm embarrassed to ask for money. He doesn't work anymore and he and my mother-in-law live modestly. They also have to help the family of my husband's brother, 'Abd al-Hadi, 33, who has been in administrative detention for six months, since 20 May 2019, and also has three children. A third brother of my husband's, 'Abd al-Qader, 36, who also has three children, has been detained since 20 May 2019 and was sentenced to 11 years in prison.

I have no faith in the justice of the Israeli courts and don't know whether Malek will get out after his administrative detention order ends. I can only hope they release him and that he comes back to me and his children.
Fidaa Du'mus, 24, from Beit Ummar, Hebron District:
In the early hours of Tuesday, 29 May 2018, soldiers entered the Du'mus family home in Beit Ummar, north of Hebron, seeking to arrest Fidaa Du'mus, 24, an accounting student. After searching her apartment and her brother's next-door apartment, the soldiers took Fidaa Du'mus out of the house, handcuffed her, blindfolded her and arrested her. Du'mus was taken to Hasharon Prison and indicted. A little over a month later, on 7 August 2018, the judge at the Ofer military court, Lieut.-Col. David Savransky, upheld her conviction for incitement as part of a plea deal. The grounds were a Facebook post that Du'mus had published with the picture of Ahmad Jarar, who was suspected of involvement in the killing of Rabbi Raziel Shevach on 9 January 2018 and was killed by Israeli security forces on 6 February 2018. As part of the deal, Du'mus was sentenced to 95 days in prison and seven months' suspended sentence.
Du'mus was supposed to be released on 17 August 2018 released on the strength of an IPS administrative decision. Her mother and two of her brothers came that day to the Jbarah Checkpoint south of Tulkarm to receive her.
In a testimony she gave on 29 July 2019 to B'Tselem field researcher Musa Abu Hashhash, the mother, Fatimah Du'mus, a 54-year-old widow and mother of five, said:
Fatimah Du'mus. Photo by Musa Abu Hashhash, B'Tselem, 21 August 2019

We got to the checkpoint at 8:30 A.M. but Fidaa wasn't there. I called her lawyer and he said he would look into it. He got back to me and said that Fidaa had been put under administrative detention for six months.

We were shocked. We decided to go back to Beit Ummar. I cried the whole way and didn't know what was happening. I had visited her in prison three days earlier and she was happy she was going to be released. I had gone home to prepare the reception and tell friends and family. Later I learned that the heads of Hasharon Prison had told Fidaa on the night of her release that she was being transferred to administrative detention because of a secret file. Her lawyer filed an appeal but it was rejected, and then her administrative detention was extended for another four months. The appeal of that extention was also rejected.

On 14 June 2019, Fidaa's administrative detention was extended for another two months, until August 13. She was very worried it would be extended again, and on my last visit told me she was going on hunger strike to protest the extension of her detention. I asked her not to do it, but at the beginning of July she declared a hunger strike that lasted four or five days. I was very worried about her.

I'm very excited ahead of Fidaa's release. I hope she lives with us in peace and quiet. Her detention was very hard for me and for her brothers and sisters. I hope we never go through that again. Fidaa didn't do anything. All they had against her was assessments by the ISA and that charge of incitement.
In a testimony she gave B'Tselem field researcher Musa Abu Hashhash on 23 August 2019, after her release, Fidaa Du'mus said:
Fidaa Du'mus. Photo by Musa Abu Hashhash, B'Tselem, 21 August 2019

When my release date approached, I was happy I was finally going home. My mother and siblings were also happy. They told me they were preparing for my homecoming: they decorated the house with flags and prepared a reception party. I never thought I'd go to prison for three months because of a ridiculous charge over posting a picture on Facebook. The day I was arrested, I thought I would be released in several hours.

The night before I was supposed to be released, I couldn't sleep. I said goodbye to my friends in prison and imagined myself at home. I was excited and glad I was going to see my family the next day. In the morning, I was sure they were waiting for me at the checkpoint. I put on new clothes my family had sent me. I said goodbye to my friends for the last time and waited for the prison commander to summon me. I understood it was a routine procedure for every prisoner getting discharged. When the prison commander told me I wasn't going home but being transferred to administrative detention, I was shocked. I felt very angry, depressed and helpless, and tried to understand why I was being moved to administrative detention.

I went back to my cell and started crying. My friends tried to comfort me and calm me down. In the afternoon I got the administrative detention order, for six months. I cried and shouted and said: "Why, I didn't do anything to justify this!" The order was supposed to end on 15 February 2019. The appeal against the order was rejected.

Three months later, I was moved to Damun Prison. I had a very hard time there. I was very worried and wasn't sure I would really get out on 15 February. I passed the time by teaching maths to teenage prisoners and reading.

When the end date of my administrative detention drew near, I was worried but didn't lose hope that I would go home. My mother also asked me not to lose hope. But what I feared happened. Two or three days before the release date, my administrative detention was extended again, this time for four months. The court rejected my lawyer's appeal on the grounds that the ISA had a secret file and new information. I was angry and felt that there was no end in sight to my arbitrary imprisonment.

Four months later, on 12 June, two days before my release date, I was informed my detention had been extended again, for two more months. My lawyer appealed again, but to no avail. I felt that I was going to spend my whole life in administrative detention. My family was worried, too. My mother stopped asking me to stay optimistic and hope for the best.

My release date was set for 13 August 13, 2019. Because I didn't know what was going to happen, on 7 July I went on hunger strike to get a final release date. I was transferred to solitary confinement and went on a hunger strike for four days. Solitary confinement is a tough experience. Time stands still and the only thing you can do is read the Quran. I was worried about what was going to happen to me. I met with an ISA officer and he suggested I stop the hunger strike. I refused to stop without getting a commitment about my release date, but he wouldn't give me an answer.

Four days later, I agreed to stop for two days, and then I got an answer that I would be released on 13 August 2019. I was so happy. My family started to prepare for my return home and my reception. I was still scared and couldn't believe it. My mother and family didn't believe it, either.

On August 8, 2019 they suddenly told me I was getting out early because of 'Eid al-Adha. At about 2:00 P.M. I got out of prison. My mother and my two brothers,Yusef, 29, and Muhannad, 27, were waiting for me at the Jalameh Checkpoint and took me home. The residents of Beit Ummar were waiting for me and gave me a big reception.

Now I'm happy because I'm with my mother and my family. I still feel that a great injustice was done to me and that it was an arbitrary arrest that wasn't commensurate with the picture I posted on my Facebook page.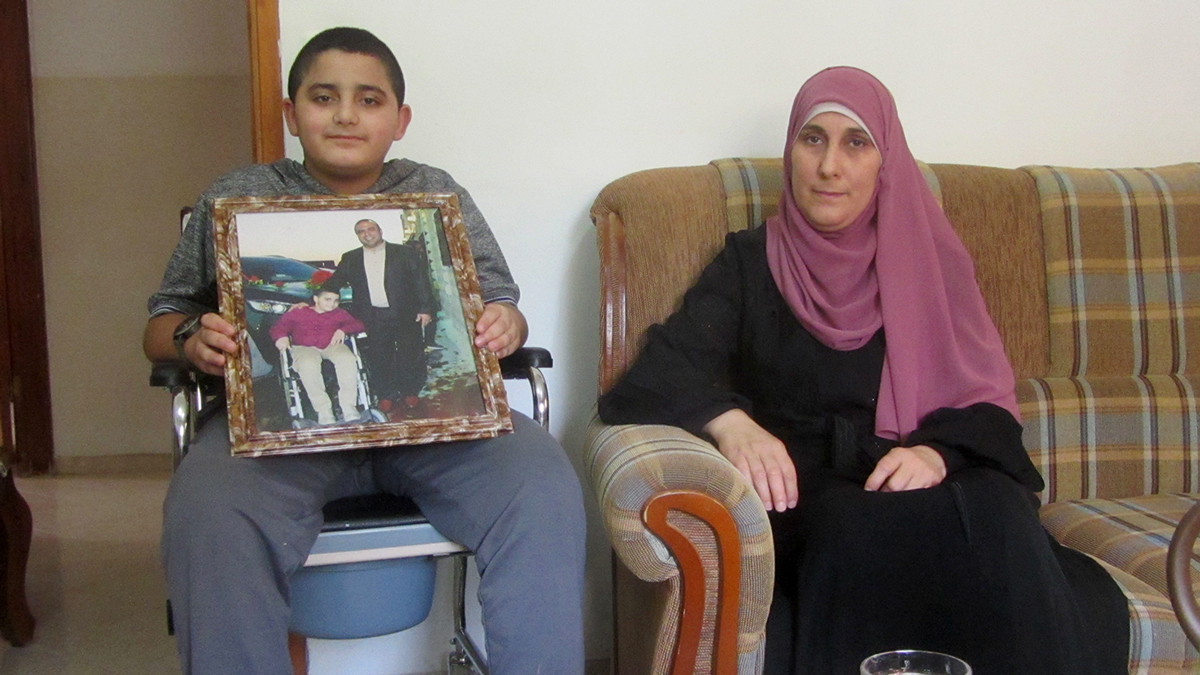 Tareq Dar Hussein (Qa'dan), 46, from 'Araba, Jenin District:
Around 1:30 A.M. on Monday, 25 February 2019, soldiers entered the Qa'dan family home in 'Araba and went up to the apartment of Tareq Dar Hussein, a 46-year-old farmer and ex-prisoner freed in the Shalit deal, his wife Maysoun, 41, and their five children, whose ages range from 12 to 18. Maysoun Dar Hussein said in a testimony she gave B'Tselem that an intelligence officer who came with the soldiers informed her husband that he was under arrest and ordered him to get dressed, and that he was interrogated for an hour and a half while she and her children were held in another room. He then said goodbye to her, to their daughters and to their 10-year-old son, who suffers from muscular dystrophy, and was taken to Megiddo Prison.
The military prosecution indicted Dar Hussein and on 12 March 2019, the court approved a plea deal in which he was convicted of participating in a meeting organized by the Islamic Jihad in identification with hunger strike Khader 'Adnan some 10 months earlier. In the deal he was sentenced to two months in prison, three months' suspended sentence, and a NIS 3,000 fine. He was supposed to be discharged on 10 April 2019. However, on Dar Hussein's release day, an administrative detention order was issued against him for six months. Two appeals he submitted against the administrative detention were rejected, and he was scheduled to get out on 9 October 2019. On 30 July, Dar Hussein went on a hunger strike to protest his administrative detention and was transferred to the infirmary at Ramle Prison. On 8 Oct. Dar Hussein's administrative detention was extended by 6 month. He is still on hunger strike and feels weak..
In a testimony she gave on 20 August 2019 to B'Tselem field researcher Abdulkarim Sadi, Maysoun Dar Hussein said:
On 10 April 2019, we went to welcome my husband at the Jalameh Checkpoint – me, our daughters, our young son Khaled, 10, who is in a wheelchair, and my husband's two brothers and four sisters. We waited there from 8:00 A.M. to 5:00 P.M.

At 5:00, a guy from Silat a-Dhahr who was released from prison came to the checkpoint. We asked him about my husband Tareq, and he told us that a few hours earlier, after the procedures to release him had already begun, he was informed that he was being transferred to administrative detention for six months. Later that day, his lawyer told us that Tareq had been put in administrative detention.

It was a big shock. Our daughters started crying. Our son Khaled asked where daddy was and why he hadn't been released from prison. We went through very painful and difficult moments. We had already prepared food, coffee and sweets, as is customary when prisoners get out of jail and all of the relatives gather at the prisoner's house in his honor.

We went home sad and disappointed. On the way back from the checkpoint, nobody could utter a word. The only sound was of our children's crying.

The only charge I know of against my husband is that he identifies with the prisoner Khader Adnan. But that's not a crime, and the occupation regime cannot judge and punish him for that. I think the Israeli authorities felt that two months in prison was not enough, so they issued an administrative detention order against him without charges. It is vindictive harassment of him and of our children.

While my husband was in Megiddo Prison, we never managed to get permission to visit him in prison because it takes a long time. Only after he was transferred to administrative detention in Ketziot did we get a permit for me and the girls, for the first time. On 26 June 26 I visited him with my daughter Zahraa, 12. We left home at 6:30 A.M. and, after the travel and the inspections at the Jalameh Checkpoint, we arrived at Ketziot at 2:00 P.M.

The guards brought Tareq in only seven minutes after the beginning of the visit, which lasted 45 minutes. Zahraa searched for him with her eyes among the prisoners behind the glass windows and screens, and when she didn't find him she started crying. Finally, we saw the guards bring him. We started asking him how he was and how his health was, but he wanted to use every second of the visit to ask about the children, especially Khaled whose health is poor, and Karbala, who is studying for her tawjihi (matriculation) exams. The 45 minutes went by so fast, that Zahraa and I felt as if it had only been 45 seconds. It was our first visit, and it was hard to talk to him only through the telephone receiver.

When it was time for the second visit we didn't go, because my husband asked us not to come, to spare us the humiliation of the inspections at the checkpoint and the long trip.

As a result of his detention, our financial situation deteriorated and we live on the allowance my husband receives from the PA, which is not enough for our needs. We are all suffering from his detention. My daughter Karbala, 17, is an outstanding student, but on her tawjihi exams she got lower grades than usual. She's sad and misses her father's support. On Ramadan and the holidays we were all very lonely without him. On 30 July 2019, my husband went on a hunger strike. He was put in solitary confinement and now he's not allowed to receive visits. I'm very worried about him.