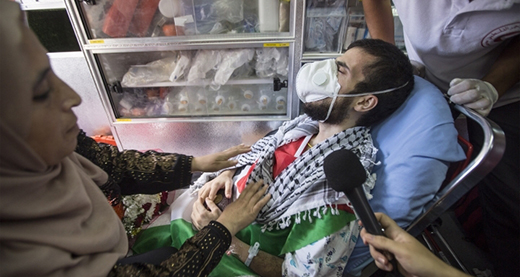 Malek al-Qadi on the day of his release from administrative detention. Photo by Faiz Abu-Rmeleh, ActiveStills, 24 September 2016.
In July 2016, three Palestinians went on a hunger strike to protest their administrative detention by Israel. About three months after that, on 21 September 2016, the media reported that they had agreed to end their strike after the Israeli authorities promised not to extend their administrative detention orders and to release them at the end of their current detention period. Two of the detainees are brothers Muhammad Balbul, 25, whose hunger strike began on 7 July 2016 and lasted 77 days, and Mahmoud Balbul, 23, whose strike began on 5 July 2016 and lasted 79 days. The two are expected to be released from detention on 8 December 2016. A third detainee, Malek al-Qadi, whose hunger strike began on 16 July 2016 and lasted 68 days, was released from administrative detention on 22 September 2016. Al-Qadi's heath deteriorated during his hunger strike and he fell into a coma for eight days.
Sana Balbul, 42, mother of Mahmoud and Muhammad, spoke to B'Tselem field-researcher Musa Abu Hashhash on 9 September 2016 about her sons' choice to go on a hunger strike:
Muhammad studied dentistry in Egypt and came back two years ago. He opened a private practice in Bethlehem and within a year became a very successful and busy doctor. Mahmoud is an officer in the Palestinian Authority military academy. He was planning to study for a master's degree.

On 7 June 2016, we woke up early from the sound of soldiers forcing the door open. They arrested Muhammad and Mahmoud. I later found out that they'd been taken to administrative detention at Ofer Prison. On the first, and only, time I visited them in prison, Mahmoud hinted to me that they were going to go on a hunger strike. He said most detainees go on a hunger strike after their detention orders are extended, but that they weren't going to wait for the day they stand at the prison gate hoping to go home, and then a smiling prison guard turns up and tells them their detention has been extended for six more months.
While reaching agreements with these individual detainees, Israel continues to hold scores of other Palestinians in administrative detention and to detain more. According to figures provided to B'Tselem by the Israel Prison Service (IPS) on 14 September 2016, which were updated until 31 July 2016, 643 Palestinians were being held in administrative detention in Israeli prisons, including two women and nine minors aged 16 to 18. They have been held under administrative detention for various periods of time and do not know when they are going to be released.
Palestinians held by Israel in administrative detention on 31 July 2016, by length of detention
| | | |
| --- | --- | --- |
| Duration of detention (months) | Minors | Adults |
| 0-3 | 4 | 137 |
| 3-6 | 2 | 130 |
| 6-12 | 3 | 275 |
| 12-18 | 0  | 54 |
| 18-24 | 0  | 33 |
| 24-30 | 0  | 6 |
| 60 or more | 0  | 1 |
| Total | 9 | 636 |
* According to IPS figures, 645 Palestinian administrative detainees were held in IPS facilities as of 31 July 2016. Details indicate that at least 643 of them were residents of the OPT.
One of these detainees is Thaer Halahleh, 37, from the village of Kharas. He has been held in administrative detention since August 2014. Last July, his detention was extended for the fifth time. His mother, Fatmeh Halahleh, 63, spoke about his arrest to B'Tselem field researcher Manal al-Ja'bri on 7 September 2016:
Thaer was arrested on 19 August 2014. This is the ninth time he's been put under administrative detention. He was transferred to a prison in Beersheva. The first order was for six months, then it was renewed for six more months, and the same in the third extension. In the fourth extension, they decided it would be for four months. On 15 June 2016, they renewed it again, for the fifth time, for four more months. I'm suffering a great deal from not knowing when he'll be released. Every time I waited with anticipation and longing for his return home to his wife and two small boys, but every time, I was disappointed. Thaer didn't come back and I spent the night crying, praying that this will be the last time his detention gets renewed. 

I don't know if he'll come home on 14 October 2016, when his current detention ends. I've lost faith in the occupations' dates and courts. I feel sorrow every time I see his young wife and small children, who go to bed alone in their house, missing their father. I try to support his wife and compensate his kids for his absence. I find myself lying to his young daughter who keeps asking about her father, telling her he'll come back soon. His wife and kids have been living with her parents in Jordan for two months now, waiting for Thaer's release. I feel sorrow and start crying every time I see Thaer's home empty and locked up. The uncertainty about his return date is very painful for me. I wish he'd been put on trial and we'd know his release date while I'm still alive.
Since October 2015, Israel has stepped up use of administrative detention. This is detention without a time limit, by virtue of an administrative order only – without trial and without a conviction – based on "evidence" that is not disclosed to the detainees, which means they cannot defend themselves against it. In theory, the judges who perform judicial review over the detention orders could serve as the detainees' representatives, demand clarifications from the ISA, and even share at least some of the material in the file with the detainees. In practice, they elect not to do so, and in the vast majority of cases approve the detention (though, sometimes, for shorter periods), making judicial review mostly a formality. 
In this state of affairs, the only course of action left for administrative detainees to get back their freedom, challenge the injustice of their detention, and prevent its repeated renewal, is to severely harm their own bodies with hunger strikes that could cause substantive, irreparable damage to their health and, in some cases, endanger their lives. 
The Israeli authorities refuse to address the hunger strikers' arguments regarding the inherent injustice of administrative detention. Instead, they reach individual agreements with hunger strikers  when their health deteriorates to the point where their lives are at risk. The Supreme Court of Israel has also avoided discussing the issue. It has refused to order the release of administrative detainees who were at death's door, and instead, invented the concept of "suspended detention", which, in their view, released them from the duty to rule on the issue of principle. 
Israel must stop using administrative detention immediately. This measure has never been lawful, but Israel's insistence, in recent months, on keeping hospitalized hunger strikers who are nearing death in administrative detention – with the Supreme Court's seal of approval – clearly unmasks the baseless claim that administrative detention is meant to prevent a threat posed by the detainee.