As of October 2015, Israel has once again been holding minors in administrative detention – a measure not implemented since December 2011. According to figures sent to B'Tselem by the Israel Prison Service (IPS), the number of minors held in administrative detention by Israel has risen steadily, from four in October to thirteen at the end of April 2016. At the end of June 8 minors were held in administrative detention by the IPS, presumably all Palestinians. B'Tselem is still waiting on  May figures from the IPS.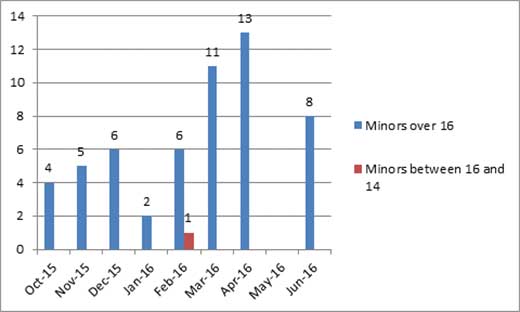 Administrative detention is detention without indictment or trial that is authorized by administrative order rather than by judicial ruling. According to international law, administrative detention can be used only in the most exceptional cases, as a last resort for averting danger that cannot be prevented by less harmful means. Israel's use of administrative detention blatantly violates the restrictions of international law. Although administrative detainees are brought before judicial review for authorization of the detention warrant, in the vast majority of cases most of the material the prosecution submits to the judge is classified. Therefore, neither they nor their counsel are granted access to the material so they do not even know what evidence, if any, there is against them and cannot mount a proper defense. In fact, detainees do not even know what allegations have been brought against them, nor do they do not know when to expect release: although each individual administrative detention order has a six-month upper limit, detention can be extended for additional six-month periods indefinitely. The authorities also take advantage of the classified nature of the procedure to lock up individuals suspected of wrongdoing as an alternative to going through an evidentiary trial in which they would be forced to disclose evidence they do not wish to reveal. They do so even though administrative detention is a preventative measure, meant to forestall a future danger.
The growing number of administrative detainees and specifically the renewed and increasing use of this measure against minors constitute even harsher abuse of this measure by Israel than in recent years.
S.A., from the village of Tammun in the Tubas District, the West Bank, was recently released from administrative detention after being put in detention at the age of 17 and eight months and held without trial for half a year. On 7 June 2016, shortly after his release, at the age of 18 and two months, he spoke with B'Tselem field researcher 'Abdulkarim Sadi and told him about the detention:
I live with my mother, who is 57 years old, in a two-room apartment in Tammun. My father lives with his other wives in the city of Tubas. My mother is not well and I take care of her and earn a living for both of us. I do farming work in settlements in the Jordan Valley to buy us food and pay for my mother's medication and the bills.

On 6 January 2016, soldiers came to our house in the middle of the night. When I woke up, there were soldiers in my bedroom. They tied my hands behind my back with plastic cable ties, blindfolded me, and took me away in a military vehicle. After about an hour's drive, we got to the detention facility at Salem. There were about six soldiers with me, I think, and they kicked and beat me along the way. From Salem, I was taken in a Prison Service vehicle to Megiddo Prison [Israel], where they put me in the youth wing. I was held in a cell with nine other teens from different places in the West Bank. On Monday, 11 January, I was notified that an administrative detention order had been issued in my name for three months, until 5 April. Later, the order was extended until 4 June. I ended up being released a day earlier, on the afternoon of 3 June, after a little less than six months in prison. The whole time I was in prison, I kept worrying about my mother. She's ill and needs my help. Because of her poor health, she only visited me twice during those six months. Every time she came it made me happy. But the long journey, which included going through checkpoints and inspections, was tough and humiliating for her.

Since my release I haven't been able to find work in settlements. The Palestinian contractors who hire workers for the settlers won't employ me.
Warud Hamamd lives in Silwad. Her son 'A. was first arrested on 28 August 2015, when he was 15. In February 2016 he was placed in administrative detention and has now been in custody for almost five months. She gave her account of the events to B'Tselem field researcher Iyad Hadad on 13 June 2016:
My husband Muaiad and I have three children. 'A., our eldest, is 16; the two younger ones are 14 and 12 years old. My husband was found guilty of participating in the attack in 'Ein Yabrud in which Israeli soldiers were killed, and sentenced to seven life sentences. Since 2003, he has been in Nafha Prison and I was left to take care of the children on my own. In 2004, the military blew up our house and demolished part of it, so we had to find another place to live.

The Israeli authorities won't let me visit my husband in prison. When 'A. was four years old, he started visiting him in prison with his grandparents. When they didn't go, he sometimes went with strangers. Prison visits are hard and exhausting for an adult, so imagine what it's like for a four-year-old. Sometimes, he would make it all the way to the prison only to be told that he couldn't see his father. When 'A. turned 15, they took away his permit to visit his father for security reasons, which I believe were unjustified. 'A. is a hardworking pupil who didn't get involved in politics and didn't take part in protests or other political activity. He likes raising animals and was always busy with that and with his studies.

On 28 August 2015, when 'A. was 15 and a half, he was violently arrested. At 2:00 A.M., when we were all asleep, soldiers and a police officer tore down our front door and entered our home. We woke to find them standing over us. They were armed and some were masked. They had dogs with them. They didn't show us any arrest or search warrant. They questioned 'A. and his brother S., who was 12 at the time. They put each of them in a separate room along with dogs and questioned them for two hours. They suspected that my son was hiding weapons or something like that and turned the house upside down searching for them. They destroyed a lot of furniture. They didn't find anything.

Then they took 'A. away. He was held in custody in the Russian Compound detention center [in Jerusalem] for 23 days. They ended up releasing him without bringing any charges against him.

'A. told me that in his interrogation, he was asked where he hangs out and how close he is to various people. He said they tried to scare him with threats. The whole time, more than three weeks, he was held in a small cell alone. They deprived him of sleep for long periods of time by leaving the light on and making noise on purpose. One time, they beat him. In the first ten days they even denied him a meeting with his lawyer and no-one from the family was allowed to see him. It was very rough on him. When he got out, he had medical problems. His grades, which were excellent before the arrest, slipped.

On 28 February 2016, before the second term of school started, soldiers again raided our home at 2:00 A.M. They got 'A. out of bed. This time it was clear they had come specifically to arrest him. They handed us a special warrant for arresting minors that had his particulars on it, the name of the officer authorized to arrest him, the name of the facility they were taking him to, and the reason for the arrest, which was all of four words – "danger to public safety".

He was taken immediately to Ofer Prison. The lawyer told us that an administrative detention order had been issued against him. He was supposed to be released on 26 June 2016 but a few days before that, they issued him another order until 28 October 2016. Before the first detention period ended I called the lawyer to make sure he was getting out, but he said that with administrative detention, nothing is final – until the person is actually out of prison, you can never be sure.

I think they arrested 'A. just because his father is in prison for a security offense. I don't think he's involved in things that justify this kind of detention. He's still a minor and they're denying him the things that are the basics of life – living with his family, studying and playing. I can't believe there's a law in this world that allows to tear a minor from his bed and his dreams, and place him in administrative detention just because of concerns or thoughts that he might do something. They took away his right to study. Put his life on hold and uprooted him from his environment, where he feels safe. He loved horses, chickens, chicks and sheep. That's all he knows. Apart from his family and friends he connects only with these animals.

To top it all, they deny us the opportunity of visiting him. We haven't seen him since he was arrested; the court sessions on administrative detention are held in camera, which means the family can't be present. A month after he was arrested we got a call from the Red Cross and they told us they'd been to visit 'A., that he is well and his health is fine. They didn't say anything else. His grandparents and I applied to visit him in prison, but we haven't gotten any response. Usually, you get an answer within a month or two via the Red Cross. Only his lawyer can visit him, and that happens about once a month. He tells us that 'A is healthy and has adjusted to his situation, even though it was hard for him at first. 'A asked to be allowed to join his father, but the prison authorities didn't agree to transfer him.

It's hard to describe just how difficult this is for me. I keep trying to find someone who got permission to visit him in prison so I can give them stuff to bring to my son, basic things like underwear. I keep worrying. 'A. is just a boy, and he needs love and caring. He grew up without a father and now he's been torn away from me and his environment. It's a very tough situation, cruel beyond words. I keep going back and forth between concern and hope. Will they extend his detention or will it end as stated in the current order and he'll be released? God knows.