Update: On 30 July 2015 the Knesset approved the second and third readings of an amended version of the bill that, under certain circumstances, allows the force-feeding of hunger strikers. A petition seeking to void the law was filed with the High Court of Justice by the Association for Civil Rights in Israel, Physicians for Human Rights-Israel, HaMoked: Center for the Defence of the Individual, and Yesh Din.
Instead of taking drastic punitive measures against people protesting their unlawful detention, the government should change its administrative detention policy which defies international law
On 9 June 2014, a bill that would allow force feeding prisoners passed first reading. The bill was proposed by the Ministry of Public Security in response to a hunger strike by Palestinian prisoners and detainees. Force feeding prisoners on a hunger strike against their will is prohibited, as it is a violation of their dignity, their right to autonomy over their body and their right to express their protest by whatever means they choose. Force feeding is also a violation of basic medical ethics. More information is available on the website of Physicians for Human Rights – Israel.
Some 300 Palestinian prisoners and administrative detainees are currently on a hunger strike, protesting the use of administrative detention. Some have been on strike for more than six weeks. According to Israeli NGO Physicians for Human Rights, more than 70 strikers are currently in hospital.
Nidal al-Boum, one of the hunger strikers, had been held in administrative detention for 16 months before being released from prison on 1 June 2014, when the administrative order for his detention expired. In his testimony to B'Tselem field-researcher Salma a-Deb'i, al-Boum described the punitive measures Israel Prison Services (IPS) used against him and other hunger strikers at Ktziot Prison:

"I was one of the 49 detainees who began a hunger strike on 24 April 2014 at Ktziot Prison to protest the unjust administrative detention. In order to pressure us to end the strike, the IPS took all the strikers and put us in a different ward, made up of tents. The ward has not been used since 2006. It was full of garbage and unfit for people. The water in the pipes was hot and we had no access to cold drinking water. We were held there for two weeks and strip-searched three or four times a day, sometimes in the presence of another inmate, and sometimes each person was searched alone. There were at least three soldiers present at each search. The searches were done in another ward and took about ten hours at a time. Sometimes, a unit from outside the prison would come. They were usually crueler than the prison staff. They knocked people out of their beds, forced us to stand in the sun for a head count, and broadcast noise on the loud speakers. They barbequed meat and ate it right in front of us, to break us." Click to read full testimony
A previous approximately six-week hunger strike by nearly 2,000 Palestinian detainees and prisoners ended two years ago. At the time the strike began, Israel was holding more than 300 Palestinians in administrative detention. According to media reports, the strike ended as a result of an agreement between the IPS and the prisoners' delegates. With respect to administrative detainees, the agreement included "an undertaking by the IPS and other security forces to reconsider all cases individually". The strike led to the early release of some administrative detainees and a marked drop in the number of people held in administrative detention in the months that followed. In July 2013, there were 134 administrative detainees, but this number has risen once more, and today there are 191 such detainees.
The government of Israel must either release all administrative detainees or indict them, in accordance with due process.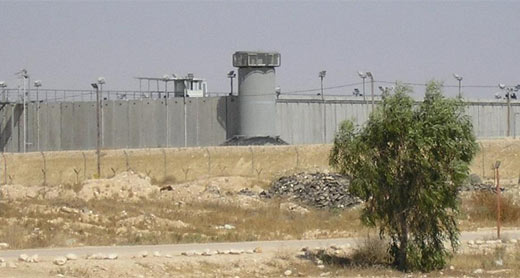 Ktziot Prisosn, where some of the administrative detainees are held. Photo: Yosi I
Administrative detention: Background
Administrative detention is detention without trial, officially intended to prevent a person from committing an act that is liable to endanger public safety. Unlike a criminal proceeding, administrative detention is not intended to punish a person for an offense already committed, but to thwart a future offense. The entire procedure is conducted in secret: administrative detainees are not told the reason for their detention nor the specific allegations against them. Although detainees are brought before a judge for approval of the detention order, most of the material submitted by the prosecution is classified and not shown to the detainee or his attorney. Since the detainees do not know the evidence against them, they are unable to refute it. The security establishment uses the confidentiality of the process to exploit administrative detention illegally, using it also to hold persons for offenses they have allegedly committed in the past so as not to expose evidence against them.
The detainees also do not know when they will be released: although the maximum period of administrative detention is six months, it can be renewed indefinitely. Over the years, Israel has held thousands of Palestinians in administrative detention for periods ranging from several months to several years. Israel has also used administrative detention to hold a number of Israelis, including settlers, for periods of a few months. At times during the second intifada Israel had over a thousand Palestinians in administrative detention.
Under international law, administrative detention is permissible only in exceptional cases, for the purpose of preventing a grave danger that cannot be averted through less injurious means. Israel's use of administrative detention blatantly breaches these rules.
In his testimony, Nidal al-Boum  also recounted his feelings the third time that his administrative detention was extended:

"Two or three days after they extended my detention yet again, they took me to the military court at Ofer for judicial review of the detention extension. I hoped they would say that there had been some kind of mistake and that I would be released, but unfortunately, the court accepted the four-month extension of the administrative detention and I was taken back to prison. My problem was that I didn't know how long they would keep extending my detention. I was losing hope of ever getting released. If I had been sentenced in a court, I would have at least known when my detention would end. Administrative detention is different. Every time the detention period ends, they renew it for three to six months." Click to read full testimony