Dear friends,
After twelve years as Executive Director, I have decided to step down. I first joined B'Tselem 18 years ago as Development Director. This was basically my first job in Israel, after immigrating from the United States. Six years later, I was appointed Executive Director, a position I have filled until today.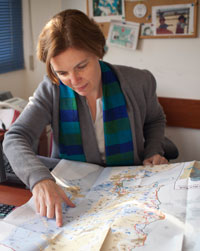 These were very challenging years, replete with periods of severe violations of human rights in the Occupied Territories and in Israel. They were also exciting and meaningful years. It was not easy to decide to leave this organization, which is so important and central to my life.
I leave my position at B'Tselem with a deep sense of satisfaction. At the time of my departure B'Tselem will be 25 years old. Alongside the difficulties and frustrations shared by all of us working for human rights in the Occupied Territories (and indeed those working for human rights globally), B'Tselem can count very significant achievements in promoting human rights on the ground and in fostering the human rights discourse in Israel. We have built a large, strong organization, widely recognized as the most reliable source of information. In Israel, B'Tselem is now the brand name for human rights. Around the world, B'Tselem is considered a gold standard for human rights research.
It is clear that the most important work is still ahead of us. For over 46 years millions of Palestinians have lived under Israeli occupation, denied their basic rights. In this reality of prolonged occupation, which creates systems that entrench violations of human rights, B'Tselem is needed now more than ever. 
I thank all of you who have supported B'Tselem and our human rights message throughout the years. I have no doubt that the organization's next Director, together with the B'Tselem staff and board and working with our many partners will successfully lead the organization to confront the challenges ahead and promote our vision of basic human rights for all.
With very best regards,

Jessica Montell