She had 10 children and had hoped to watch them grow in good health and happiness. She graduated university with a degree in Arabic and Geography Studies and had hoped to find steady work in civil service or at UNRWA. Yet life had other plans for A.H., 47, from Beit Lahiya: her husband went blind due to diabetes and could no longer support the family. To survive, she started raising livestock and earning a living off their produce. On 27 January 2020, A.H. shared her story with B'Tselem field researcher Olfat al-Kurd:
In 2003, I worked for six months as a teaching assistant at UNRWA, as part of a temporary work program for the unemployed. I made 300 dollars a month and invested some of it in buying a couple of sheep for 350 dollars. In 2007, my husband's diabetes got worse and problems with his eyesight kept him from working. I had to shoulder the burden of supporting the family.
Every year, the produce I received from the sheep increased. In 2007 I was raising eight sheep, making dairy products and selling them in the market. By 2012, I had 15 sheep and chickens. Still, my children were at school and it was barely enough. In 2013, every three or four months I got 1,800 shekels (approx. 500 dollars) in support from the Welfare Ministry.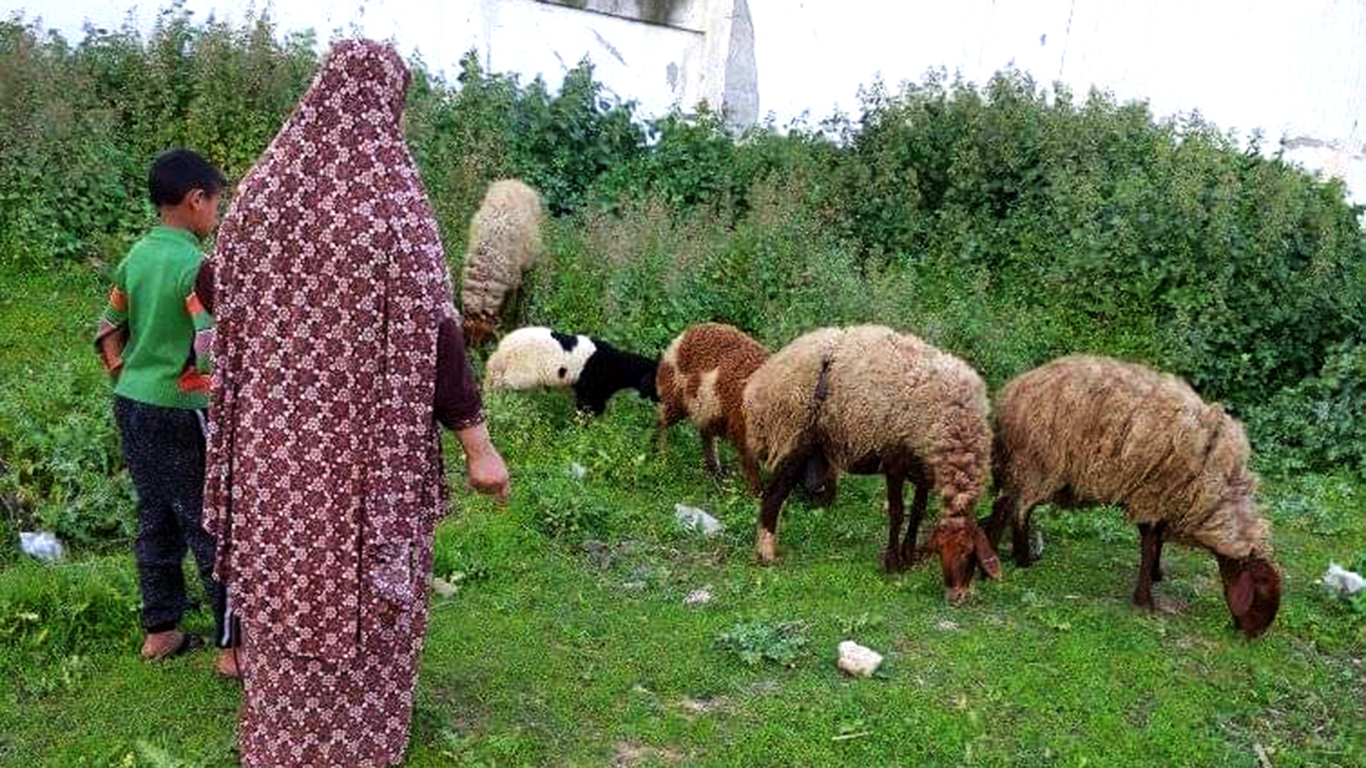 In 2014, the war broke out. We fled our home, which was close to the border, and went with the children to the UNRWA school in Jabalya Refugee Camp. We left the sheep behind. When a ceasefire was declared, I went back to check on the house and the sheep. The house was in an unlivable condition. All the farm animals, apart from two sheep, had been killed in the shelling. I thought: How will I support the family now?! I had ten children by then….
In 2015, I decided to reopen the business because we were in a terrible financial state. My brother lent me 400 dinars (approx. 560 dollars) and I bought two more sheep and chickens. My business started flourishing again! I sold milk, cheese, eggs and chicken at the market every two weeks. My children are grown now. Two graduated high school last year but didn't start university, because I don't have enough money to pay their tuition fees. I have a two-year-old who needs diapers and milk every day, and the house we live in is unfit for people.
I hope my business develops and I buy a lot of sheep. It will help me feel independent, to be an active and productive member of society and support my children and husband. I'd like the relevant parties to pay attention to the suffering of Palestinian women in the Gaza Strip, to the oppression and unemployment which make up her life.