Imposing restrictions on the movement of Palestinian West Bank residents is one of the main tools Israel uses in enforcing its regime of occupation and control over the Palestinian population. In addition to the permanent restrictions in place, the military also employs travel restrictions in order to collectively punish villages, and sometimes entire regions, following instances of throwing stones or Molotov cocktails at roads.
Early on in the Second Intifada (which began in September 2000), the military installed gates and placed concrete blocks at the entrances to most West Bank villages. Now, almost 20 years later, these gates and blocks remain in place and can readily be used by the military to block access to Palestinian communities whenever it is decided to employ collective pressure against local residents. Even when the gates are open, their virtually permanent presence serves as a constant reminder that the freedom of movement of Palestinians is entirely subject to arbitrary Israeli decisions. 
In September and October, the military blocked the entrances to three communities: Kafr a-Dik, west of Salfit (11 days); 'Azzun, east of Qalqiliyah (24 days); and al-Jalazun Refugee Camp, north of Ramallah (20 days).
Blocking roads in response to instances of throwing stones or Molotov cocktails is unlawful and constitutes collective punishment of people whose only "crime" is that they happen to live nearby. The roadblocks severely disrupt the residents' lives, impairing their ability to make a living, get to school, farm their land, receive medical treatment, or simply maintain a reasonable daily routine. The closure of roads as collective punishment deprives thousands of Palestinians of the right to freedom of movement and constitutes arbitrary use and abuse of military force. There is absolutely no moral or legal justification for inflicting this harm.
Below we detail the restrictions imposed on each village, including some of the testimonies collected by three of B'Tselem's field researchers: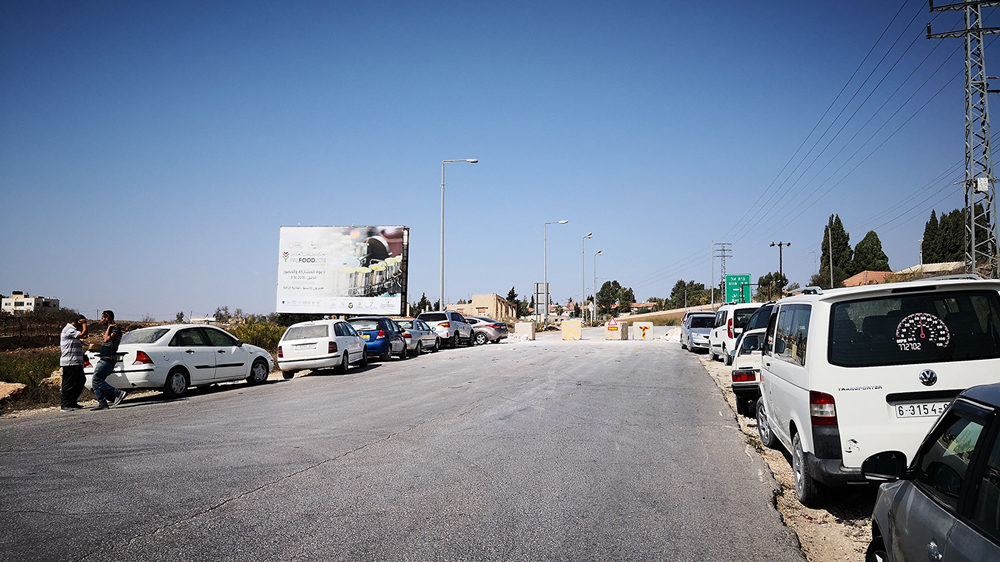 Southern entrance to al-Jalazun Refugee Camp blocked for 20 days: 23 September to 12 October 
Al-Jalazun Refugee Camp, to the north of Ramallah, has a population of about 14,000. Early on the morning of Sunday, 23 September 2018, soldiers placed concrete blocks at the southern entrance to the camp, closing it off. This entrance leads to Route 466, which connects the north of the West Bank and al-Jalazun R.C. to Ramallah. The military alleged that youths had thrown a hand grenade and Molotov cocktails at the settlement of Beit El. 
The closure of the road forces residents of the camp, as well as some 60,000-80,000 Palestinians from nearby villages, to take an alternate route via the village of Surda, increasing journey times and costs. In accordance with an order from the Palestinian Authority, the taxi companies absorb these extra costs for their passengers. The alternate route is narrow road, just five meters wide. It cannot handle the extra volume of traffic, leading to traffic jams and delays of an hour or more, disrupting the lives of tens of thousands of people, damaging their livelihood and affecting all areas of their lives.
In testimonies taken by B'Tselem field researcher Iyad Hadad on 4 October 2018, residents described the how the roadblock affects their lives:
Khitam Nakhleh, 34, a resident of al-Jalazun R.C., is a mother of three. She works as a secretary at Khalil a-Rahman School in al-Birah. In her testimony, she stated:
It's been more than ten days now that the military has been keeping the al-Jalazun R.C.-Ramallah road closed with concrete blocks. I rely on public transportation and it's now very hard for me to get anywhere. To get to Ramallah we have to take a detour via the Dahiyat a-Tarbiyah wa-Ta'alim neighborhood, and then on through Surda to al-Birah.

It's a very narrow road, but because of the roadblock all traffic to and from the north of the West Bank now takes this route. This causes terrible traffic jams, particularly at rush hour when people leave for work, between 7:30 and 8:00 A.M., and again when they return home, between 3:00 and 4:00 P.M.

I get to work half an hour to an hour late every day. I've started leaving home earlier, at 6:00 o'clock instead of at 7:00. What I find hardest is that because of the roadblock I also arrive half an hour to an hour late to pick up my baby from her caretaker. 

The military is causing us distress and disrupting our daily routine. This isn't the first time they've blocked the road and it certainly won't be the last. Every time they give a different reason for it: once they said it was because people had shot at settlers, another time it was because of clashes between soldiers and residents of the camp, and another time it was because people were working on the fence they're building to protect the settlers. Sometimes they even block the entrance to the alternate route near the a-Dahiyah neighborhood, and then we have to walk long distances. I've often gotten stuck on the way home due to clashes or to the firing of teargas or even live ammunition at young demonstrators. 

The situation is tough. Sometimes drivers take dirt roads that are in disrepair, and that makes us feel nauseous and dizzy. God help us, is all I can say.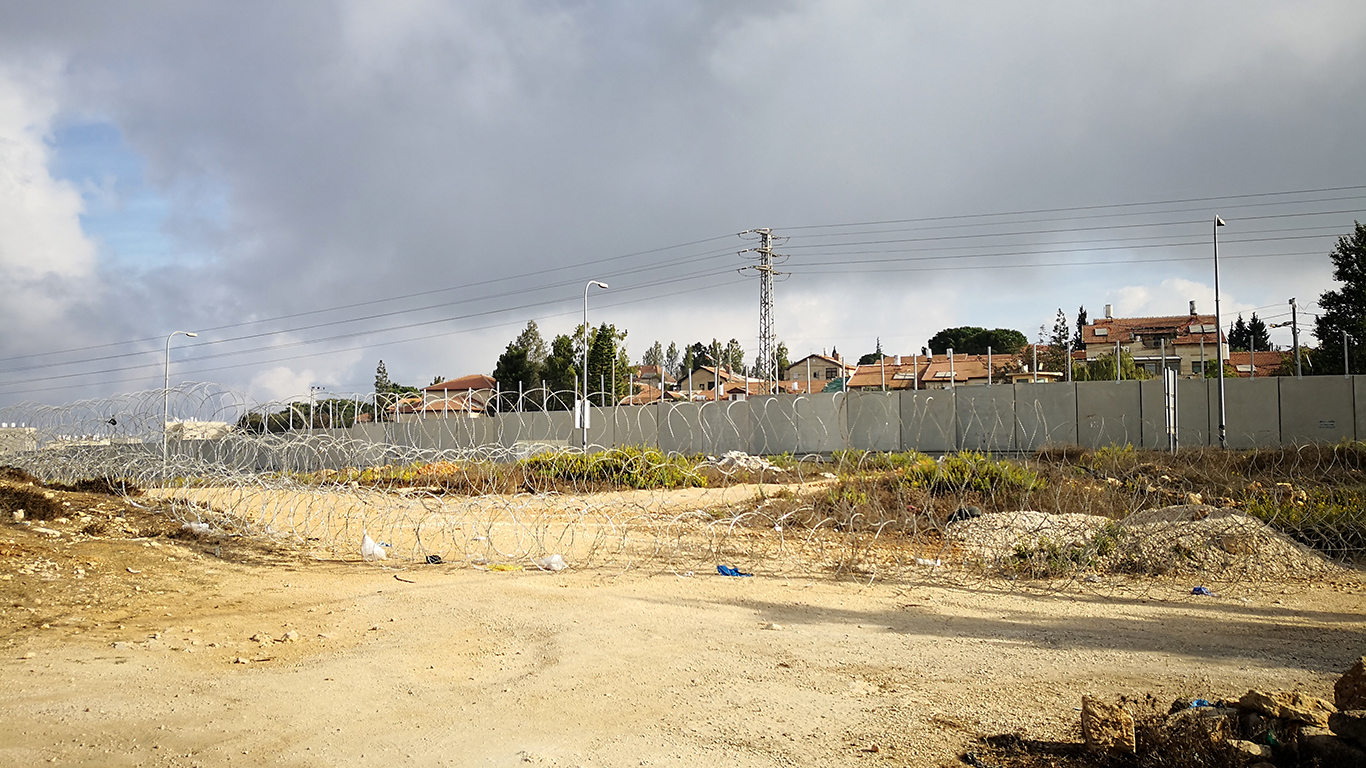 Nasser Delashah, 48, a resident of Jifna, is a married father of four. He's works as the dispatcher in a taxi station in Ramallah. In his testimony, he described the closure of the entrance to the refugee camp:
At about 8:00 o'clock every morning I take public transportation to get to work in Ramallah. Then, around 4:00 or 5:00 P.M. I return home. Normally, the driver takes the Jalazun R.C.- Beit El-Ramallah road, a distance of about seven kilometers. The journey only takes 10 minutes and costs NIS 4 [approx. 1.10].

About ten days ago, soldiers blocked the road with concrete blocks, so we're forced to take a detour. We use the Surda road, which is paved but very narrow and in poor condition. Sometimes we have to take a second detour on top of this, and go via Dahiyat a-Tarbiyah neighborhood. That extends the journey by another five kilometers. Luckily, we don't have to pay more, because the Palestinian Ministry of Transport has ordered to keep the prices fixed because people can't handle the added cost. 

The biggest problem is the traffic jams along the detours. It's stressful and people get mad, honk their horns, and shout. Sometimes drivers start to fight with each other. When the traffic is at a standstill, many drivers switch off their engines. That means that there's no air-conditioning and people start to suffer from the heat. Taxi drivers often have to use dirt roads so that their passengers can get where they need to go. They drive over hills or across fields, and then the passengers feel sick. Pregnant women and young children take it particularly badly.


Instead of 10 minutes, the journey takes half an hour, and sometimes even an hour. That means that every day we're delayed for half an hour to an hour in each direction. It disrupts our lives. This isn't the first time they've blocked off roads. They've done it many times before. The last time was at the end of last year, and the roadblock continued into this year. That time they claimed that it was because they wanted to build a fence to protect the settlers of Beit El.

We used to be able to bypass the closure via the dirt roads close to the neighborhood of Dahiyat al-Yasmin. But about a month ago the military placed barbed wire there, blocking access to these roads. By doing that, they're preventing people from reaching their homes or places of work more easily. 

The military deliberately makes things hard for us at every turn. They disrupt our routine and unsettle us. The restrictions are getting worse every day, and we're being pushed into a reality that's like living in a prison or a cage.
'Awad Sharakah, 58, a resident of al-Jalazun R.C., is a married father of eight. He works as a taxi driver. In his testimony, he stated:
As a taxi driver, I can tell you that the roadblock has cost me about one-third of my income. Because the alternate route is longer and there are a lot of traffic jams, there's less work. The long detour I take adds around five kilometers to the journey, so that a journey that used to take 10 minutes now takes between half an hour and an hour. Instead of five round-trips day, I do about three now. So instead of getting NIS 250-300 [approx. USD 68-81.50] a day, I only get NIS 150-200 [approx. USD 40.75-54]. After paying for diesel and other costs, I'm left with something like NIS 100 [approx. USD 27] at the end of the day.

How can I provide for a family of 10 with that kind of income? Most of my children are still in school or higher education, and we need at least NIS 200 [approx. USD 54] a day. We're badly off financially as it is, and to avoid bankruptcy I had to double my work hours.

If the roadblock continues, things will get worse. I'm very worried and I don't know how I'm going to be able to pay all my expenses or provide for me family. It makes me nervous and tense, and sometimes because I'm so frustrated I get mad at my wife when she asks me for money to buy something and I don't have enough.

To top it all off, I also have to cope with angry passengers, particularly when we get stuck in traffic jams in the Dahiyat a-Tarbiyah neighborhood. The road is barely five meters wide there. Everyone gets very stressed and they complain a lot. Obviously everyone wants to get to their destination on time. Drivers start to try to pass one another and the chaos only gets worse. They turn onto dirt paths, and then lots of vehicles get stuck or break down because the paths are so poorly paved. 

We have to go through this hell every day, and no one cares. All that Israel cares about is looking after the settlers' safety and keeping them happy. What are we to them? We count for nothing. Where else in the world does anything like this happen? Does it make sense that the world sees this and remains silent? There's no mercy, no compassion!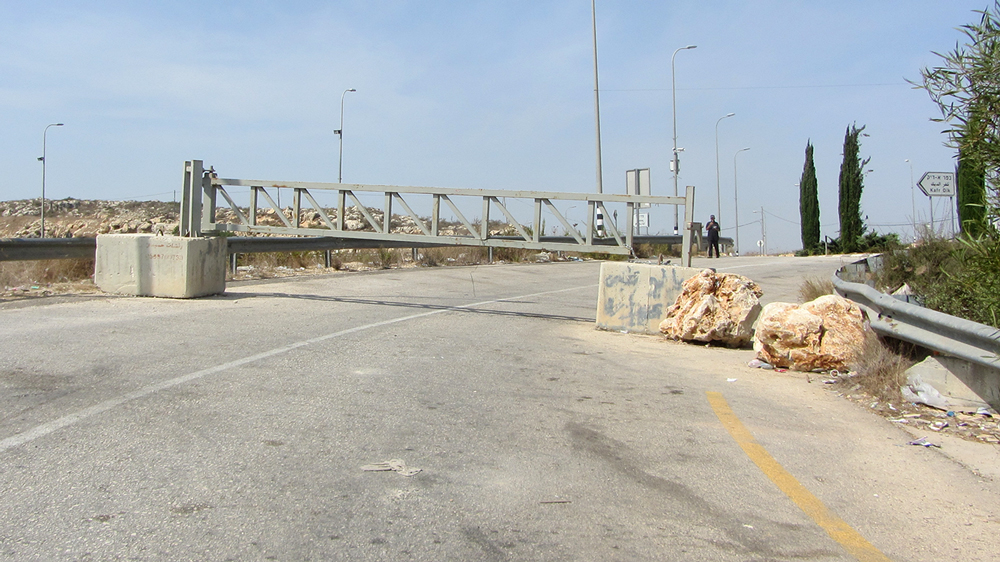 Main entrance to the village of Kafr a-Dik blocked for 24 days: 10 September to 3 October 
The village of Kafr a-Dik (population: approx. 6,500), is situated to the west of the city of Salfit. On Monday, 10 September 2018, soldiers closed the gate that had been installed during the Second Intifada at the northwest entrance, the main entrance to the village. As in previous closures, the grounds cited for closing the gate was alleged stone-throwing at Israeli cars on Route 446. The closure of the gate forced residents to take an alternate route, a narrow bumpy road that runs through the village of Bruqin, adding nine kilometers to their journey. The roadblock made it more difficult for residents to reach their farmland and their places of work or study. It also meant paying more for taxis, the only public transportation available in the village.
In testimonies taken by B'Tselem field researcher Abdulkarim Sadi on 3 October 2018, two Kafr a-Dik residents described how their lives were disrupted by the roadblock: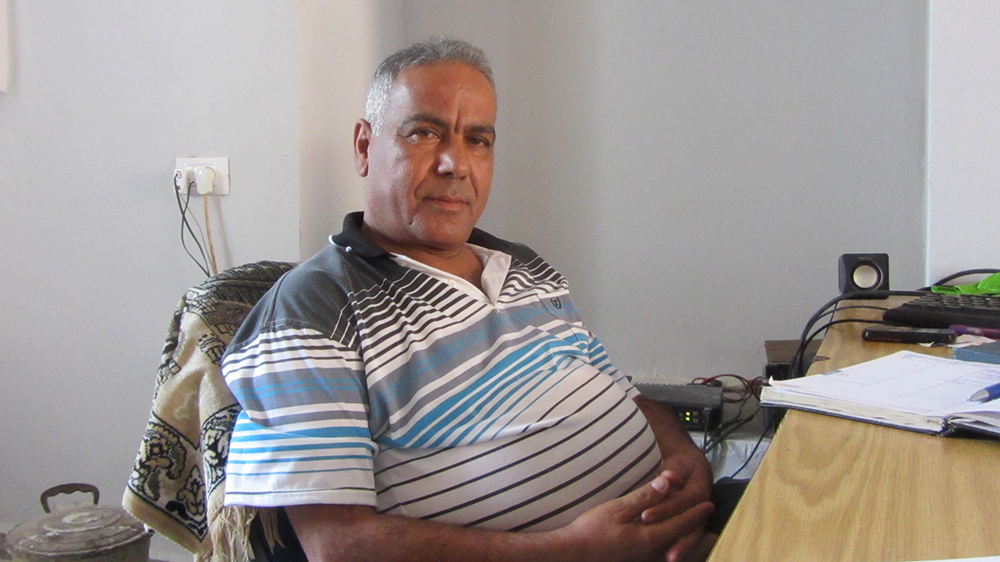 Mahmoud Turk, 53, a married father of eight, owns a taxi station. He described the adverse effects of the roadblock: 
During the three weeks the gate was closed, we had a lot less work, because of the prices. For example, the trip from Kafr a-Dik to Deir Ballut normally costs 25 shekels [approx. USD 6.80]. Because of the roadblock and the longer route we had to take, the fare went up to 40 shekels [approx. USD 10.90]. We had the same problem with fares from Kafr a-Dik to the villages to the west of Salfit and the west of Ramallah. A driver who used to make 100-120 shekels [approx. USD 27-32.70], a day now only makes 70-80 shekels [approx. USD 19-21.80]. In addition, the road via Bruqin, which is the alternate route, is in very poor repair and that damages our taxis. And this is all because of the policy of collective punishment imposed on us.
'Abdallah Dib, 60, a married father of three, owns a furniture factory. In his testimony, he said:
I have ten people working in my carpentry shop. We produce first-rate furniture, working in accordance with strict standards. Mainly, we export what we make to furniture marketing companies in Israel. It's been more than three weeks since the military blocked the gate at the western entrance to the village, and it's been a real problem transporting our goods. This road serves as our main traffic artery. We use it to transport equipment, raw materials, and the completed furniture. Now we're forced to take a long detour, travelling via Bruqin on poor roads in order to reach Route 505 (the Trans-Samaria Highway). Since the gate was closed, the Israeli vehicles that deliver equipment and raw materials to the carpentry shop, which is located close to the village entrance, can't reach us because they don't use the alternative Palestinian roads. So we've started loading the furniture onto our own vehicles and taking the detour to meet the Israeli vehicles at a spot outside the village, close to the settlements of Alei Zahav and Peduel. Obviously, this means additional costs and wastes precious time. If the military will keep the gate closed, it'll take a real toll on the business. 

We're also very concerned about the upcoming olive harvest. If the military won't open the gate, we won't be able to reach our lands by car.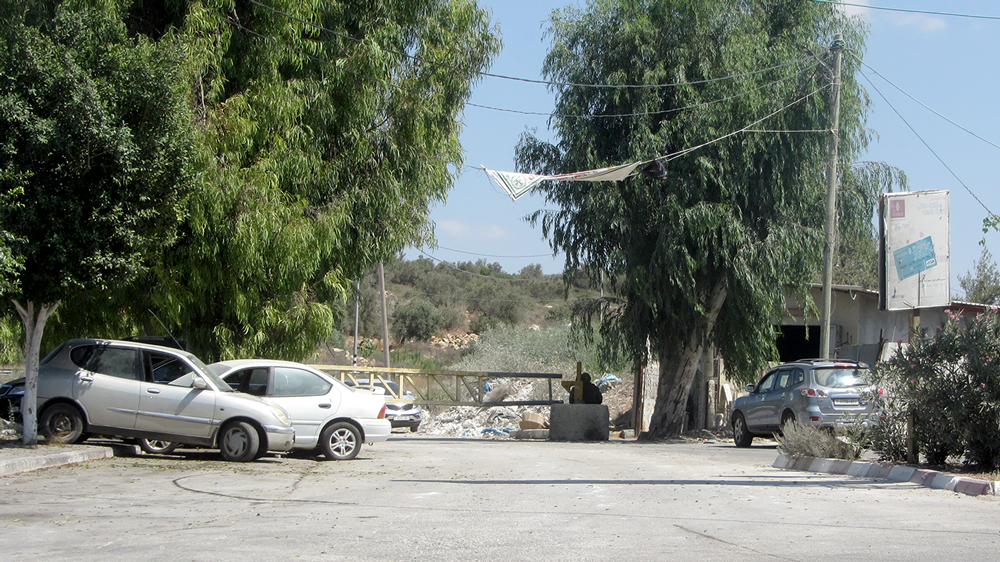 Main entrance to 'Azzun blocked for 11 days: 12 September to 22 September
The village of 'Azzun (population: approx. 10,000), is situated west of the city of Qalqiliyah, close to Route 55, which links Nablus and Qalqiliyah. Early on in the Second Intifada, the military installed a metal gate at the main entrance to the village, as it did in most of the villages in the West Bank. Ever since, the military has the military has several times imposed collective punishment on the village by closing the gate, following instances of throwing stones or Molotov cocktails at the road. On the evening of Wednesday, 12 September 2018, military forces raided the village of 'Azzun, alleging that local youths had thrown a Molotov cocktail at Israeli cars on Route 55. Clashes between the soldiers and village youths ensued. At about 9:30 P.M. the soldiers left the village. They closed the gate at the main entrance, leaving behind one jeep and some soldiers.
Blocking access to the main road adversely affects not only the residents of 'Azzun, but also the residents of the Palestinian communities south of the village, including Kafr Thulth, Sanniriya, Bidya, 'Izbat al-Ashqar, and numerous other villages. Every time the road is blocked, the residents of all these communities are also forced to take detours. Likewise, ambulances are forced to take the detour, unless a military jeep is stationed at the entrance to the village, in which case the soldiers allow the ambulance to go through the gate.  
In testimonies taken by B'Tselem field researcher Abdulkarim Sadi on 20 September 2018, local residents described the effects of the roadblock: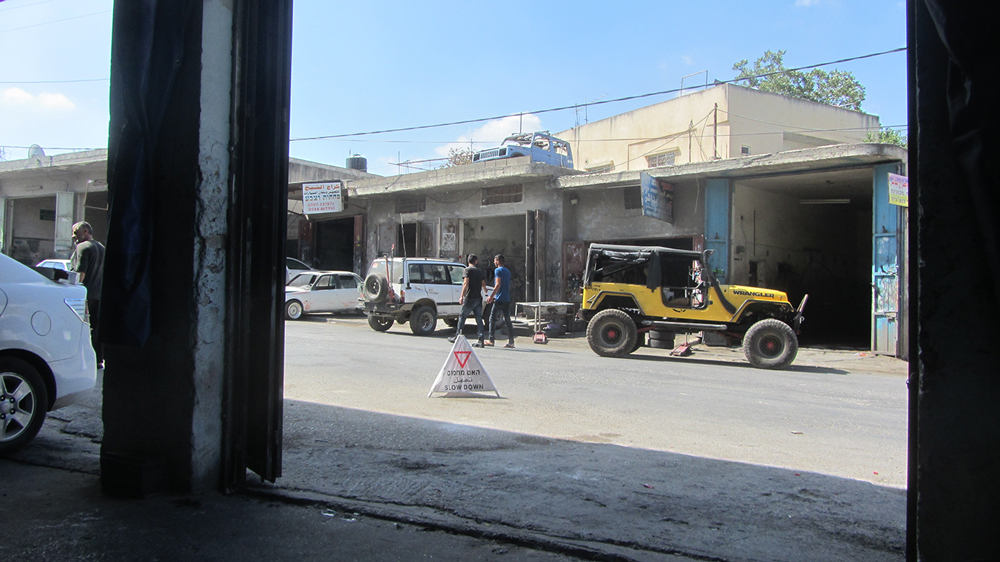 'Adel Shbeitah, 51, a married father of seven, lives in 'Azzun where he owns a car repair shop. In his testimony, he related:
My repair shop is near the main entrance to the village. The military closed the gate on the night of 12 September and we've been suffering from the roadblock ever since because our customers can't get into the village. As the owner of a car repair shop, I'm completely dependent on customers who come from elsewhere – both Palestinians and Israelis. Today is the eighth day in a row that not a single customer has come here. That means financial harm to me, my family, and also my employees.
The military is imposing collective punishment against us that restricts our movement and harms us financially. Before the gate was closed, I'd bring it about NIS 500 [approx. USD 135] a day. The gate's already been closed for eight days, and the losses keeps mounting up.
Jamil Sari, 51, a married father of two, lives in Khirbet Sir. A restaurant-owner, he said:
My restaurant is located by the main road, and most of my customers come from the Nablus area and other parts of the West Bank. They include merchants, businesspeople, and other residents. I depend on them.
Since the gate was closed over a week ago, customers from the Nablus area can't get here anymore. They aren't familiar with the alternative route. A few days ago, a family from Nablus made a reservation, but they ended up cancelling when they realized that the entrance was blocked. They preferred to turn around and go back home rather than deal with an unfamiliar detour. 

Our earnings have been cut in half because of the roadblock. This is collective punishment imposed on the residents of 'Azzun and the neighboring villages.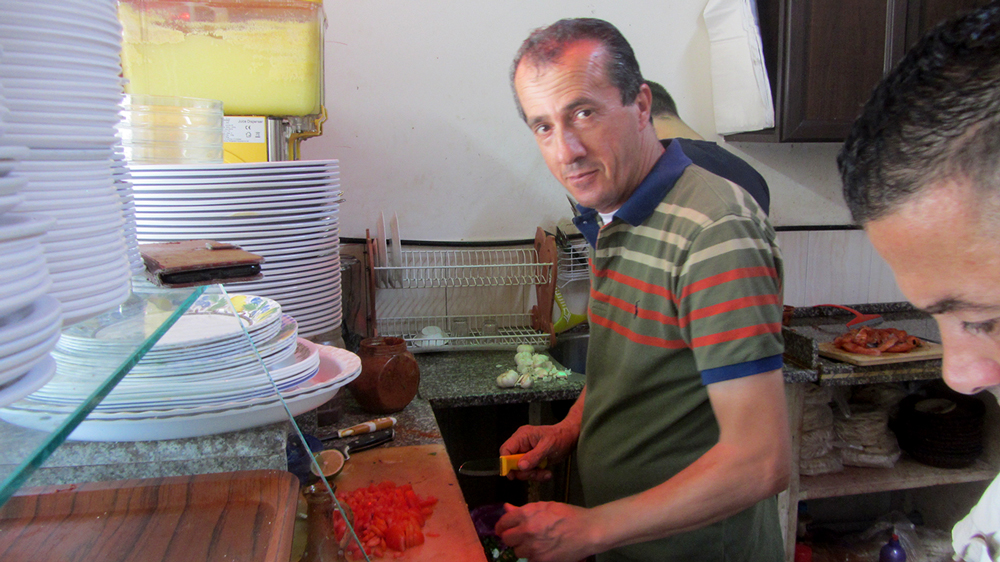 Maamun Khaled, 22, lives in Jayus. A single man, he works for a taxi station. In his testimony, he stated:
Our taxi station is located across from the main gate to 'Azzun. We have ten taxis. We have fares inside the village and also drive people to various destination in the surrounding area. In addition, we have Palestinian clients from Israel and clients from the Nablus and Ramallah areas. But now they can't get to us because the gate is closed.

Our drivers have to take alternate routes, for example going west via 'Izbat a-Tabib. This makes the journey about five kilometers longer and also more expensive. Before the roadblock, a journey from 'Azzun to Kafr Laqif would cost NIS 15 [approx. USD 4.10], but now its costs NIS 25 [approx. USD 6.80]. That hurts our customers. Sometimes the military installs a flying, unplanned, checkpoint at the entrance to 'Izbat a-Tabib. That delays cars leaving the village through the western entrance and causes traffic jams. If the roadblock continues, we'll suffer heavy losses.