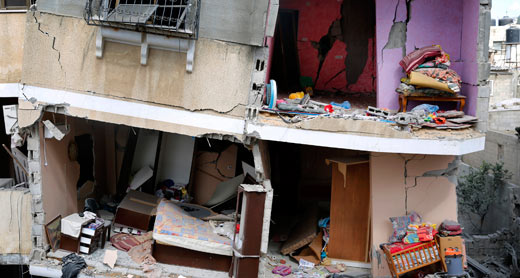 House in Khan Younis damaged by an Israeli air strike, Finbarr O'Reilly, Reuters, 17 July 2014
The horrific developments in Gaza have reached intolerable heights: Israel is bombing houses with people in them, entire families have been buried under rubble, and streets lie in ruins. Hundreds have been killed so far, dozens in the last 24 hours only, many of them women and children. The number of refugees is rising: tens of thousands of people have nowhere to go and no safe haven, as the besieged Gaza Strip is bombarded.
Israel considers any perceived link to Hamas justification for attack. Hamas considers any place in Israel a target. One party fires at civilians, more often than not missing the target thanks to the Iron Dome defense system. The other party fires at densely populated civilian areas, with deadly results on a shocking scale.
Hamas makes no pretense to follow the laws of war. Israel does, but holds Hamas responsible for its own actions – the dead, the refugees, the destroyed homes. Yet unlawful actions by one party cannot justify unlawful actions by the other, and regardless, each party bears sole responsibility for the outcome of its actions. Israel may proclaim its actions in Gaza to be moral and lawful, but the horrifying reality on the ground makes it impossible to further countenance Israel's cynical use of legal terms such as "proportionality", "distinction" and "due caution". Israel is exploiting these words to justify the death and destruction it is wreaking on the Gaza Strip.
In view of all this, B'Tselem calls on the Government of Israel to immediately cease the bombardment of inhabited homes, neighborhoods and areas in the Gaza Strip.